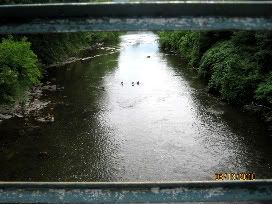 Hey its Liz again [Caroline's blog partner in crime:)] I've taken this photo of the Lackawacken River from a tiny, blue walking bridge hidden away in the town of Honesdale. I was inspired to write the poem that follows because of the beauty of this river. Please, let me know what you think!
An observation
The suns rays
Made up of shinning light
Varying in strength
Shift upon my skin.
They move from me
To the river's surface
Tinting its colors
While making the water shine.
The sun has the power
Of distinguishing purity
From a modern filth
In all winding waters.
All rivers
Untouched by man
Shine in the light
In a transparent way.
All other rivers
Touched by man
Are nothing but darkness
Killed by filth.
-Elizabeth Danon